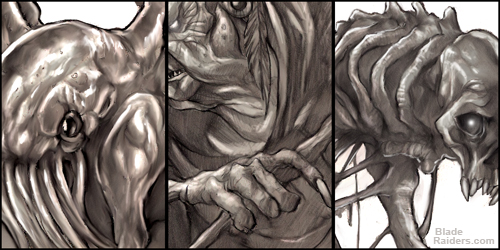 A friend of mine named Matthew Goodmanson, who is not only one heck of a nice guy but also an extremely talented fantasy artist, is tackling art chores on the upcoming Enemy Omnibus, which will be part of the Storyteller's Toolkit.
The majority of Blade Raiders products will feature my art, but I knew that I wanted the Storyteller's Toolkit to come out almost immediately after the rulebook's release, and I knew I wouldn't have time to work on both at once. So Matt rose to the occasion, and now he's working on the creature pics while I work on the rulebook.
His stuff is amazing, and I'm excited to have him onboard. Look forward to more Enemy Omnibus sneak peeks in the coming weeks and months!